Author:

Nicola R. White
Narrator:

Elizabeth Tebb
Length:

9 hours 2 minutes
Series:

New England Furies, Book 1
Publisher:

Strange Roads Press
Released:

Sep. 18, 2017
Genre:

Paranormal Romance


Tara Walker dreams of more excitement than slinging plates of seafood for Cape Cod tourists, but as she learns when she is attacked and forced to fight for her life, fate sometimes has a funny way of giving you exactly what you wish for. Faced with strange new powers and embroiled in a murder investigation, Tara must now race to uncover the secrets of the ancient Fury that has woken inside of her – and of the evil that stalks her.

As if Tara's life hasn't gotten complicated enough, she is forced to ally herself with Jackson Byrne, witness to her assault and uncle to a pint-sized oracle whose fate is intertwined with hers. Skeptical, stubborn, and oh-so-sexy, Jackson wrestles with demons of his own. He is determined to ignore the attraction rising between them even faster than the body count, but like it or not, he and Tara need each other if they are to unravel the mysteries that surround them.



Nicola R. White comes from a small city on the east coast of Canada where ghost stories and superstitions abound. Although she is a lawyer by profession, her passion is reading and writing fiction. In 2016, Nicola's debut novel, Fury's Kiss, won the $10,000 Kobo Emerging Writer Prize in Romance. She is currently producing her first graphic novel.
Nicola is a member of Romance Writers of America and Romance Writers of Atlantic Canada. She is a frequent guest and speaker at literary events such as Word on the Street and Hal-Con, the largest sci fi/fantasy convention east of Montreal.

I am a literacy specialist with experience performing in a number of roles. Having spent a great deal of time speaking publicly as both an educator and an administrator, I have accrued a varied skill set that I feel confident I can use to advance and advertise bodies of work. My passion for literature drives me to bring the voices within it to life.
Tell us about the process of turning your book into an audiobook.

Fury's Kiss was the first audiobook I produced. Since I self-published this book, I wanted to do the same with the audiobook. I used a marketplace service offered by Audible.com for authors and narrators to connect and produce audiobooks that will be distributed through the site. Potential narrators submitted auditions and I selected the wonderful Elizabeth Tebb!

Was a possible audiobook recording something you were conscious of while writing?

Absolutely! I always think about the possibility of my books being adapted into all sorts of different mediums, whether audio, film, graphic novel, or something else I haven't thought of yet.

How closely did you work with your narrator before and during the recording process? Did you give them any pronunciation tips or special insight into the characters?

Elizabeth and I kept in contact by email and touched base every month or so, but I don't like to micromanage anyone so I trusted her to let me know if she needed support from me. I provided her with a character sheet and notes about accents and pronunciation of some unusual names, but that was pretty much it! When she was done recording the book, I listened to the chapters and provided feedback for minor revisions.

How do you manage to avoid burn-out? What do you do to maintain your enthusiasm for writing?

My problem tends to be the opposite of burnout – I always have more enthusiasm than time! I usually have several projects on the go at one time so that I don't get bored with any one project in particular. Right now I am working on a comic book and a game script in addition to my usual romance writing schedule. For me, burnout is more of a problem in relation to my day job, so I have taken steps to make sure I have enough energy for my work as a writer (which is my real passion).

Are you an audiobook listener? What about the audiobook format appeals to you?

Of course! I love the way a good narrator can make you feel as if the story is coming to life. I also like the convenience of being able to multitask while listening to a good book. My favorite place to listen to audiobooks is in the car.

How did you celebrate after finishing this novel?

I don't know that I did actually celebrate at the time. I am a lawyer by profession and I finished the first draft while I was studying for the bar exam. I started writing this book as a way to de-stress while I was in law school and didn't start seriously thinking about publishing it until I had re-written most of it several times over. The real celebration happened when I published Fury's Kiss and it won the Kobo Emerging Writer Prize a few years later.

In your opinion, what are the pros and cons of writing a stand-alone novel vs. writing a series?

As a reader and an author, I prefer a series to a stand-alone. From a reader perspective, if I like a book, I want more! From an author perspective, books in a series are easier to sell and readers seem to prefer them. It's fun to create and explore a world in detail, although the con is that it can get hard to keep track of everything (especially if the series is based on mythology, like in the New England Furies series!).

What bits of advice would you give to aspiring authors?

Don't give up! Even if it seems like things aren't working out the way you hoped, writing is really just a numbers game. If you keep working at it long enough, you will eventually enjoy some degree of success, whatever that looks like for you. Learn as much as you can about the business side of publishing and never sign a contract you don't fully understand. Finally, don't compare yourself to other people. Roosevelt was right when he said that comparison is the thief of joy.

I don't what to say about this book. This book follows Tara's journey, and what happens after  she is attacked, with her life in danger something ancient awakes inside her.
Tara lives with her 2 best friends Alex and Rachel, who try to help Tara, come to terms with her new path in life. Tara is lucky to have the support of Nora, Ruby her young daughter and Ruby's Uncle Jackson who gets involved against his better Judgement.
This quite a fast paced adventure with evil chasing them and sometimes catching them. This is a great paranormal story which uses ancient legends and myths to bring to life this entertaining book. When Tara's Fury  Electra helps save the life of a young oracle Ruby. So instead of waiting for evil to come them, they decide to go and face it. This is book one, so we have quite a bit world building, and getting to know the players. This book was definitely Tara and Jackson's romance, so we have a complete story with a happy ever after for the main couple. Obviously a larger story arc will follow on to book two. A great start to an interesting new take on ancient myths and legends.
Elizabeth narrated all the voices including the male. I wasn't pulled from the story once, so for me that is a big win. I was riveted from start to finish.
I received this audiobook as part of my participation in a blog tour with Audiobookworm Promotions. The tour is being sponsored by Nicola R. White. The gifting of this audiobook did not affect my opinion of it.

Fury's Kiss Giveaway: 3-month Audible Membership
Also available from Nicola R. White

Jul. 10th:
Jul. 11th:
Jul. 12th:
Jul. 13th:
Jul. 14th:
Jul. 15th:
Jul. 16th: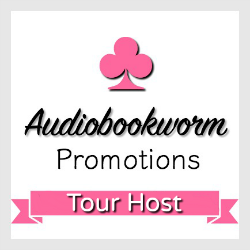 ➜Sign up as a host here