Author:

Joseph Badal
Narrator:

Pamela Almand
Length:

8 hours and 40 minutes
Series:

Lassiter/Martinez Case Files # 1
Publisher:

Suspense Publishing
Released:

May 17, 2016
Genre:

Police Procedural; Mystery


Barbara Lassiter and Susan Martinez, two New Mexico homicide detectives, are assigned to investigate the murder of a wealthy Albuquerque socialite. They soon discover that the victim, a narcissistic borderline personality, played a lifetime game of destroying people's lives. As a result, the list of suspects in her murder is extensive.

The detectives find themselves enmeshed in a helix of possible perpetrators with opportunity, means, and motive – and soon question giving their best efforts to solve the case the more they learn about the victim's hideous past.

Their job gets tougher when the victim's psychiatrist is murdered and DVDs turn up that show the doctor had serial sexual relationships with a large number of his female patients, including the murder victim.






Joseph Badal is the author of 13 suspense novels: Borderline & Dark Angel (Lassiter/Martinez Case Files series); Evil Deeds, Terror Cell, The Nostradamus Secret, The Lone Wolf Agenda, Death Ship, & Sins of the Fathers (The Danforth Saga); The Motive & Obsessed (The Curtis Chronicles); and stand-alones The Pythagorean Solution, Shell Game, & Ultimate Betrayal.
All of his books draw on personal experiences and historical events. Joe has been judged "One of the 50 Authors You Should Be Reading" and has received 3 Gold Medals and 2 Silver Medals from the Military Writers Society of America, and The Tony Hillerman Award for Best Fiction Book of the Year in 2014 and 2016. He also writes a blog titled Everyday Heroes. See past postings at http://www.josephbadalbooks.com
You can read more about Joe at http://www.josephbadalbooks.com and email him at josephbadalbooks@aol.com

The daughter of a cattle rancher, Pam Almand grew up in the tiny town of Brush, Colorado. Her dad, a former Air Force fighter pilot, sparked her interest in flying, and after graduating Colorado State University in 2 1/2 years with a Bachelor of Fine Arts degree, Pam took a flying lesson "just for fun."
That first lesson turned into a lifelong passion, and one month later she had her Private Pilot's License. Though there were no female pilots in the airline industry at that time, she set that as her career goal. In 1976, Pam started a small aircraft ferry service to build flight time and in that capacity, delivered new and used aircraft all over the world, including two-seat Cessna 150s she flew solo across the Atlantic!
Pam was the first woman flight test pilot for Cessna Aircraft Company's multi-engine turbo-prop and jet division and eventually became the company's national spokeswoman for their Learn To Fly programs.
Her dream was finally realized when she was hired by Northwest Airlines and began a career which spanned the globe, on aircraft from the Convair 580 all the way to captain of the Boeing 747 flying Asia and Europe routes. Pam had over 25,000 hours of flight time at retirement two years ago.
She is a past director of the International Society of Women Airline Pilots and organized conferences for that group in Bangkok and Fort Worth. She is a member of the Ninety-Nines, Experimental Aircraft Association, and the Air Line Pilots Association.
When arthritis and multiple joint replacements curtailed her flying, she started a company as a professional voice actor. Appearing in a national Tylenol commercial in 1995 sparked her interest and The Captain's Voice was the result. She is now an award-winning SAG/AFTRA narrator and voiceover talent and has done commercials, videogames, e-learning, audiobooks, and phone messaging for clients including Microsoft, Brilliance Audio, Johnson & Johnson, Audible, La Costa Resort, Jet Blue, Delta Airlines, Dell, Blackstone Publishing, the American Red Cross, Canadian Realtors…all the way to being the English voice for The Hotels and Casinos of Monte Carlo!
She was nominated for an Audie Award for her 5th audiobook narration (Come To Me Alive, by Leah Atwood) and went on to also earn a Voice Arts Award for non-fiction for In Movement There Is Peace, by Elaine and Joseph Foster; another Voice Arts nomination for Cyber Crisis: It's Personal Now, by William Kieper; and recently was awarded an Earphones Award by AudioFile Magazine for Husbands and Other Sharp Objects, by Marilyn Simon Rothstein for Brilliance Audio.
She has served on the board of several charities, including Patrons of the HeArts and local Beaches Emergency Assistance Ministries (BEAM) and lives with her husband Amos in Atlantic Beach. Pam plays piano for her local church, still returns to Telluride, Colorado every summer, loves biking, golf, hiking, and-though she's been all over the globe!- she still counts world travel among her most-loved hobbies.

I really enjoy police procedurals, and this one is a doosey. We follow two police detectives Susan Martinez and Barbara Lassiter as they try to find the murderer of vicious Victoria who must be the most unsympathetic victim I ever read about. I didn't take me long to become part of the action, and I was following with Barbara and Susan tracking down the clues. There is lots of action in this book, including the private lives of the two detectives. If you love a good murder mystery this a great one, and can't recommend this enough.
I have to say I never guessed who murdered vicious Victoria, the only thing is I didn't want the person found. As the Barbara and Susan investigates the murder the more suspects they uncover.
The narrator did a marvellous job, making each characters voice very distinctive. Considering the large cast of characters
I received this audiobook as part of my participation in a blog tour with Audiobookworm Promotions. The tour is being sponsored by Pamela Almand. The gifting of this audiobook did not affect my opinion of it.
Q&A with Author Joe Badal
Do you believe certain types of writing translate better into audiobook format?

I don't believe that one genre is more or less conducive to being translated into audio format. The key to a quality narration is the narrator. I've listened to self-help books on audio where only one voice was required and to thrillers where the narrator had to address dozens of characters. The books in each genre that were satisfying were entirely dependent on the quality of the narrator.

How did you select your narrator?

We auditioned a couple dozen narrators. I personally listened to each of the submissions and eliminated those who didn't seem to "get it." That left us with four possible narrators. We selected the one who had done her homework and knew how to pronounce a couple Spanish words.

How closely did you work with your narrator before and during the recording process? Did you give them any pronunciation tips or special insight into the characters?

The narrator and I established a working relationship right from the beginning. I was amazed at how little input I had to contribute because the narrator seemed to understand my characters and the plot from page 1.

Are you an audiobook listener? What about the audiobook format appeals to you?

I buy at least 25 audio books a year. New Mexico is a large state. Traveling around New Mexico involves long stretches of wide open spaces. Audio books make these extensive car trips enjoyable.

Is there a particular part of this story that you feel is more resonating in the audiobook performance than in the book format?

As much as I inject emotion into my stories, nothing can compare to the emotion conveyed by a narrator.

How did you celebrate after finishing this novel?

When I finished Borderline, I celebrated by starting on the sequel.

In your opinion, what are the pros and cons of writing a stand-alone novel vs. writing a series?

I currently have three different series going on. What I like to do is write a stand-along between books in a series because it tends to clean my literary palette. Both stand-alones and series books should have strong characterization. A good character will carry a good story. In a series, however, the author must be able to have the characters grow in complexity, which is obviously less of an issue when writing a stand-alone. not

Have any of your characters ever appeared in your dreams?

I keep a notepad next to my bed in case I dream about something I am currently working on. I frequently dream about contradictions I inadvertently put in a manuscript.

What bits of advice would you give to aspiring authors?

It's not enough to tell a good story. There are technical aspects to writing that should not be ignored. Learn what they are and then edit, edit, edit.

Do you have any tips for authors going through the process of turning their books into audiobooks?

Don't settle for just any narrator. There are many terrific narrators out there. Pick the one that best conveys your story and your voice.

What's next for you?

I am almost finished writing the first draft of the third book in the Lassiter/Martinez Case Files series.

Q&A with Narrator Pamela Almand
When did you know you wanted to be an audiobook narrator?

After the first time I went out on a limb and challenged my comfort zone… and had a great time doing it!

How did you wind up narrating audiobooks? Was it always your goal or was it something you stumbled into by chance?

I've been a full-time voice actor and voiceover professional for about 15 years, but had always shied away from audiobooks since I did not have an acting background. I was busy doing tv and radio commercials, e-learning, voice messaging…but I have been an avid reader my entire life, so I decided to try it, with a cozy mystery and characters I could really have fun with. I found a book with a stipend and royalty-share on ACX and although I didn't make the money I would make in voiceover gigs, I really enjoyed it!

Did you find it difficult to "break into" audiobook narration? What skill/tool helped you the most when getting started?

I used ACX to find titles that offered a stipend plus royalty-share. As a full-time professional, I just couldn't justify doing anything for royalty-share only but the stipends were what got me started!

A lot of narrators seem to have a background in theatre. Is that something you think is essential to a successful narration career?

I do think it is an advantage to an audiobook narrator. It enables you to get deeply into a character with acting techniques. What I had to bring to the table without the benefit of acting training was the ability to get into my books that reading voraciously gave me! Books have always been an escape for me and to truly escape… you need to bury yourself in the story and the characters and somehow it shows up in narration!

What type of training have you undergone?

I try to do training with various coaches every year and I have benefited from all! I've studied with Scott Brick, Paul Ruben, Carol Monda, Pat Fraley, and many other top narrators and I will always try to keep improving my craft.

How do you manage to avoid burn-out? What do you do to maintain your enthusiasm for narrating?

I just love books! And I learn so much by doing varied genres!

Are you an audiobook listener? What about the audiobook format appeals to you?

I love to listen when I'm driving or working out, but I'll have to admit, I've driven past a number of exits listening to a particularly exciting title!

What are your favorite and least favorite parts of narrating an audiobook?

The computer setup and tech aspects are not my cup of tea, and I sometimes feel a little irritated at doing punch and roll when I make a mistake. It is an indulgent joy to have a sound guy working the DAW. And I hate to have to stop and research a pronunciation, but most of the time, the publishers have already done so for me and that is a treat!

Prize: 3-Month Audible Membership, Portable Speakers, & Coffee Mug
Borderline Giveaway: Borderline Audiobook + Coffee Mug

Sep. 18th:
Sep. 19th:
Sep. 20th:
Sep. 21st:
Sep. 22nd:
Sep. 23rd:
Sep. 24th: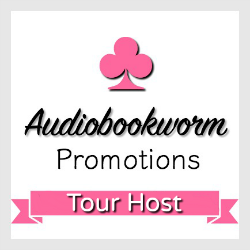 ➜Sign up as a host here